About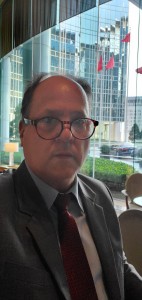 With a background in economics and political affairs, Ken Silverstein has spent more than two decades covering corporate and public policy.  He has worked as a beat reporter, columnist and editor.
He is a columnist for Forbes, and a former contributor to the Christian Science Monitor. His work, generally, has been sourced in the Atlantic Monthly, New York Times, Washington Post, Chicago Tribune, USA Today, Huffington Post and National Public Radio and several newspapers and magazines in the United States and abroad.
Since 2002, he has been an editor-in-chief for: Environmental Leader and Energy Manager Today, Public Utilities Fortnightly and Energy Central. The roles, generally, involved writing in depth stories on prevailing energy issues. They also entailed recruiting writers and editing their work as well as helping to create conferences and moderating panel discussions.
He holds B.A. and M.B.A. degrees from Tulane University, and an M.A. from American University.
Ken's Honors:
2016: Named a Top Authority in coal, fossil fuels, electric power and electric power generation by Agilience
2016: Named globally as a Top Influencer in Renewable Energy by Onalytica
2012: Honored by Media Industry News as one of the Most Intriguing People in Media
2012: Awarded Gold for Original Web Commentary from American Society of Business Press Editors
2012: Named to Text100′s 25 Most Influential Energy Journalists
2011: Awarded by Media Industry News (MIN) for Best Online Column
2011: Named by Wall Street Economists as one of the Top Economics Journalists
2010: Honorable Mention for the Media Industry News' Best Online Column
2008: American Society of Business Publication Editors finalist for "Outstanding Web Commentary."
2007: Folio Awards. Best Magazine Feature
2006: Folio Awards, Editorial Excellence (EnergyBiz Magazine)
2002: Neal Award Finalist for Best Subject-Related Series (UB Mag)
2001: Folio's Editorial Excellence Award (UB Mag)
2001: Primedia Magazines Foundation Award
2001: American Business Press Editors Award for Best Magazine Supplement and Special Section for the Midwest Region (UB Mag)
2000: Crain's top B-to-B Media Powers (UB Mag)
1997: West Virginia Writers Annual Competition runner up for best magazine essay
1997: Best Essay West Virginia Quarterly
If you prefer, you can connect with Ken on Twitter, LinkedIn and Facebook